October 2020 Giveaway: Win Dog Stuff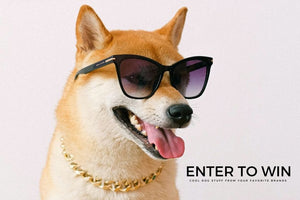 Who doesn't love free stuff? We have teamed up with KOCHO, Dogwise, Willie & Roo, and Cedarcide to bring you a very special giveaway! One very lucky winner will receive ALL of the prizes listed below!
What do you win?
Illumiseen LED Dog Collar
Illumiseen LED Dog Leash
Illumiseen LED Dog Vest
KOCHO Potty Pads - One Pack
Dogwise Training Manuals
- On Talking Terms with Dogs: Calming Signals
- My Dog Pulls. What Do I Do?
- Barking: The Sound of a Language
Willie and Roo Choice Chews - One Bag
Willie and Roo Cheesy Bacon Grain-Free Training Treats - One Bag
Willie and Roo Paw Print Water Bottle
Cedarcide Flea + Tick Pet Brush
Cedarcide Personal Pack
How do you enter?
Enter through the entry form shown below with your email address or Facebook account. You may earn additional entries by completing the social media engagements provided. Earn the most entries by sharing our giveaway with your friends and getting them to sign up.
October 2020 Dog Stuff Giveaway
Giveaway begins on October 5, 2020 7:00 AM EST and ends on October 26, 2020 11:59 PM EST. One (1) lucky winner will be announced on our social media accounts and will also be personally notified via email on October 30, 2020.
More prize details:
We highlight the items featured in this giveaway below:
This LED Dog Collar will help you keep track of your dog at night or at dawn. The USB rechargeable battery offers five hours of illumination per charge, and you can cycle between three different light modes in just seconds. Durable, sturdy, and lightweight, the collar is available in six colors and sizes and is built to last a lifetime.
If you and your canine friend enjoy long walks or running late at night or at dawn, consider protecting yourselves with an LED Dog Leash. Available in four- and six-foot lengths, the leash features an easy-to-use metal clip that attaches to your dog's collar in seconds as well as three glow modes. Made of strong, high quality material, the LED leash makes your presence obvious to anything coming your way.
Some dogs love to chase other animals. If this is your dog when you take him for a night walk, don't worry if you suddenly release him. Combining two visibility features - reflective strips and two rows of bright LED lights, your dog will highly be visible in places that are low in light and high traffic. With the adjustable belt and quick release buckles, just slide the vest, clip it on, then make it a snug fit with final adjustments. 
These potty pads are made of 4 ultra-thick carbon-filled layers and it is 2 x thicker than the traditional potty pads. The activated carbon traps and eliminates unpleasant odors and keeps your home fresh. It prevents urine from returning to the surface and dirtying paws. Recommended for puppy/kitty training, incontinent or senior dogs/cats and lining crates and carriers.
Yawning, lip-licking, sneezing, even scratching are just a few of the 30-plus signals that dogs use to communicate with one another. With this book you can learn to recognize these signals and use them yourself to interact with your dog.
At last, a simple way to teach your dog to walk on a leash without pulling your arm off! You will learn Turid's quick and easy method to train any age, size or breed of dog to walk calmly and quietly on a loose leash. City, town or country walking will become more relaxed, reducing stress for dog and owner.
Barking is natural and almost all dogs bark. It is one of the many ways dogs communicate with each other as well as with humans. In this book, author Turid Rugaas, well known for her work on identifying and utilizing canine calming signals, turns her attention to understanding and managing barking behavior. 


Willie and Roo Choice Chews - One Bag
Roo's Choice Chews are a super yummy grain, rawhide, and glycerin free treat that your pup will love. Made with premium natural ingredients to ensure that your dog gets a wholesome snack that tastes great. Pet paw-rents can feel good about spoiling their fur babies with these treats!
Willie and Roo Cheesy Bacon Grain-Free Training Treats - One Bag
Your pup will go wild for these bacon and cheese treats! They are wheat and corn free with all human-grade ingredients. They're also the perfect size to use as positive reinforcement during training sessions.
Willie and Roo Paw Print Water Bottle
Pet lovers will want to get their paws on this bottle! Stainless steel bottle has copper lined double wall insulation to ensure that your beverage will be cold for 24 hours and hot for 12 hours. Best of all, your doggo's name will be added to the bottle!
Cedarcide Flea + Tick Pet Brush
The Cedarcide Flea and Tick brush is the safest, easiest, and most effective way to protect your pet from fleas and ticks. The brush holds about 4.5 oz of Cedarcide Original to be applied to your pet. No spray, no dip, not mess, and no pests.
Cedarcide Original is a plant-based and family-safe bug spray for people, indoors, and your pets. It protects you, your family, and pets from harmful bugs like fleas, ticks, mosquitos, mites, and ants. The personal pack is perfect for pockets, purses, traveling, hiking your favorite trail, or taking your pup to the dog park!
Picking the Winners:
One (1) winner will be chosen randomly and will be contacted via email to claim their prize. The winners will also be announced on our social media sites on October 30, 2020. 
This giveaway is in no way endorsed, affiliated, or associated with Facebook, Instagram, or any other social media networking site. By entering, you are agreeing to the terms and conditions set forth in the Gleam widget above. 
Good luck!